Building projects can pose significant operational challenges for public libraries. When faced with the daunting, but welcome task of a year-long closure of a main or central library to provide a much needed, full renovation, there are many decisions to consider.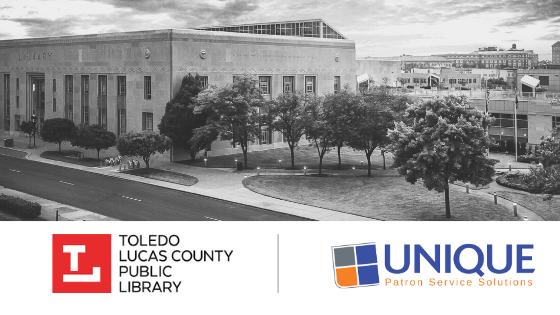 For the Toledo Lucas County Public Library, one of those was "how are we going to answer our centralized Information Line with staff dispersed to different locations without adding undue stress on staff?"  The concern of all involved was ensuring continuity of service and a smooth transition for customers and staff, alike, at all service points – whether a physical location, via phone, or online . The solution to that problem was engaging Unique's patron contact center to handle incoming phone calls and live chats.
Unique Library Solution
Unique's patron contact center provided a flexible solution that allowed staff to focus on in-person customer service interactions while Unique handled customer service on the phone and online. Library staff were able to focus on their transition to alternate locations and serving the needs of their valued community in person and via outreach programs, knowing the Information Line was being fully staffed by communication professionals.
Over the course of the renovation, Unique's team handled a monthly average of 5,000 patron phone calls and 850 chats per month. Patron requests typically involve topics such as circulation needs, hours of operation, information about library services and programs, e-media help, and ready reference, with Unique resolving a high percentage of the interactions without having to escalate to library personnel for further assistance. Feedback from patrons was overwhelmingly positive.
Toledo completed the Main Library renovation in late September 2019. Its positive experience with Unique's centralized customer service functions resulted in continued utilization of Unique services, expansion of phone assistance to several branch locations, and expansion plans to incorporate phone assistance at additional branches. Toledo Library officials praised Unique workers as exceptionally kind and accurate in interactions with the public:
"It changed the way we deploy our staff. They can instead focus on the people in front of them, or matters outside the building."
---
Download the full Toledo Lucas County Public Library a case study here: